After I heard the news of the death of Robin Williams, I heard that Koko the gorilla also heard about it and that she was sad as most of America was.
You remember Koko right? Hanabiko "Koko" is a female gorilla who, according to Francine "Penny" Patterson, her long-term trainer, is able to understand more than 1,000 signs based on American Sign Language, and understand approximately 2,000 words of spoken English.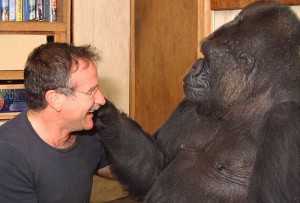 The Gorilla Foundation released a statement saying that "On Monday, Aug. 11, the day news broke of Williams' passing, Koko and Penny and Ron (Drs. Patterson and Cohn) were together when phone calls started coming in about the sad event. After the first call, Koko came to Dr. Patterson with an inquiring look on her face. Dr. Patterson explained that "we have lost a dear friend, Robin Williams." Koko was quiet and looked very thoughtful." The statement also explained that in 2001, Robin Williams was invited to meet Koko at The Gorilla Foundation in northern California and that Robin Williams and Koko became very special friends.
Here is a video of their meeting:
(or you can watch the video here on YouTube.)
This got me to thinking… Celebrities get to do cool stuff us normal people do not get to do. Their status allows them this opportunity. Some of it is for security reasons. I remember hearing about Michael Jackson being escorted in the back entrence to ride Pirates of the Caribbean at Disneyland and I actually saw Alice Cooper escorted the back way into Calico Mine Train at Knott's Berry Farm while the rest of us stood in line. There would be no way Michael Jackson, or Disnyland, would survive with him wandering around the park like I do.
Then there are stories like the one of Robin Williams meeting Koko. If I wanted to meet Koko? Yeah good luck with that right? Unless… I had a ton of cash. I know someone who recently threw the first pitch at the Las Vegas 51s baseball game. I asked him how he got that opportunity and he said it may have something to do with the large check they were donating.
Or if you are someone like Justin Bieber and have tons of cash you can have sex with the top hookers in Brazil. But in all fairness to Justin Bieber this article explains why Justin Bieber has no choice but to bang $500 per hour hookers.
There are countless stories of this kind of thing where celebrities get to do cool stuff us 'normal-every-day-Joes' are not able to.
I understand that when celebrities are photographed or stories are published about them doing cool stuff, it sells tickets or ad space ultimately as us normal folk want to read about their exploits as we wish to do the same. Like when Paris Hilton recently DJd at a popular club in Las Vegas a lot of people were talking. And that builds more attention. It seems she is going to be DJ at Hyde dance club at Bellagio in Las Vegas on New Years Eve this year which is over four months away as I write this and tickets are already no longer available. Gee, I wonder how much Bellagio is paying her?
I am sure Robin Williams was allowed to meet with Koko to bring attention to the preservation, protection and well-being of gorillas and other great apes through interspecies communication research and education. Still it was a cool thing to do I will never get the chance to. On the other hand I get to do a lot of things celebrities will never be able to like enjoy a quite meal or go shopping without being photographed or chased by the paparazzi.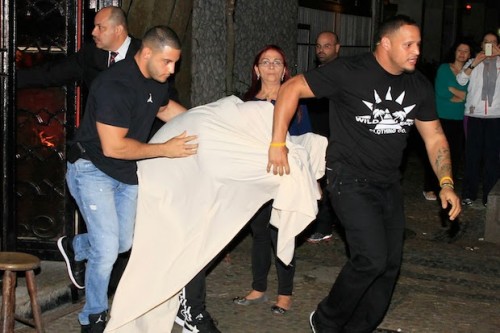 So I guess it is an OK trade off.
Share your thoughts below in the comments. Would love to hear from you.
If you liked this or any other posts you read here, please share them with your friends 'cause sharing is sexy…
Photos courtesy of here and here.