I was chatting with my friend Sasha and reminiscing about my time in Hamburg where he is currently visiting and I was trying to remember where it was I stayed. Having visited 20 countries, and many of them numerous times, really only a handful of hotels stick in my mind. There was one in Egypt I remember and the one on the beach in Tel Aviv and a lovely one in Paris. There was the country club in Moscow. I always stayed at Hotel Central in Plzen, Czech Republic and I had a particular room I always took in a certain guest house in Schwangau, Germany as I felt it was the best in the city. Hotel Engel at the base of Castle Vaduz in Lichtenstein always had a fine room for me and treated me like a star. I even stayed above the Hofbrauhaus in Munich and surely a couple more if I took the time to think about it. All very James Bond like to walk into a hotel and get greeted with "Your normal room Sir?". LOL
After a little brain twisting and Google Earth searching the place in Hamburg came back to me. It was Hotel Monopol. I remember it was mid December and there was a large park where they were holding the Christmas Festival and there were rides and food tents and I remember ducking into one of them to have a glass of warm red wine as I was freezing and I pondered with my traveling companion about how the prostitutes could stay warm in little more than a very short skirt, stockings and a light ski jacket. I wish we had the internet and digital cameras then like we do now as later I realized I had stayed just a few blocks from the location where the Star Club used to be. This is the place where the Beatles played for 1 1/2 months in '62 and many of the big names in rock in the 60's played there. The club closed on 31 December 1969 and the building it occupied was destroyed by a fire in 1987. The address in Hamburg area St. Pauli was: Große Freiheit 39; Große Freiheit is a side street of the Reeperbahn. I was also just a couple of blocks from the hotel the Beatles stayed in. Oh well.
Anyway, thanks to Al Gore and modern technology, and Google Earth specifically, I was able to grab a picture of the hotel I stayed in and the businesses on its' ground floor. Here is the website for Trutti Frutti and the club next door Pearls.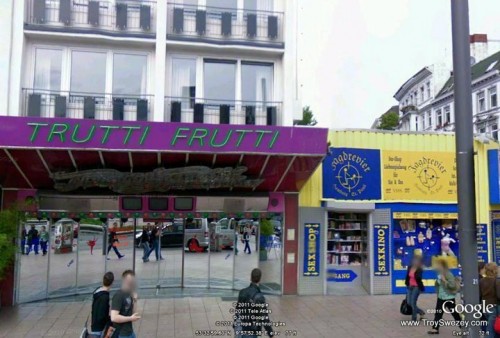 Yep, I was livin' large.

Buy The Beatles: Live at the Star-Club here on Amazon
.
Have you ever been to Hamburg? Do you think, as some do, that The Beatles are over rated? Share your thoughts in the comments. Would love to hear from you.
If you liked this or any other posts you read here, please share it with your friends using the Shareaholic buttons below.